How do you know when to go to the doctor for ankle injury if ankle injuries are fairly frequent, especially if you are physically active or participate in sports? Do you require medical treatment for an accident or sudden ankle pain? Should you relax and see if it improves?
If you experience particular symptoms, do not try to tough it out or play through the discomfort. Pain, swelling, difficulty walking, and other symptoms may indicate the need for medical intervention. Waiting too long can result in repeated injuries, more complicated procedures, poor long-term outcomes, and even arthritis.
Got Questions About
Ankle Injuries?
If you need helpful advice about ankle injuries, contact us today.
Fill in your name, email address, and phone number and we'll respond quickly.
The Ankle Anatomy
The ankle is a joint formed of three bones: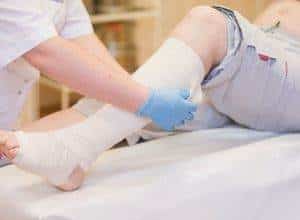 1. The inside of your ankle is formed by the tibia, sometimes known as the shinbone.
2. The fibula, a tiny bone in your lower leg, forms outside the ankle.
3. Talus is a tiny cone-shaped bone that rests between your heel, tibia, or fibula
The ankle also includes:
Cartilage is a material that allows bones to slide against each other. It also helps absorb impact when walking, running, or jumping.
Ligaments are strong tissue bands that connect your bones and help support joints. The ligaments in your ankle are divided into three groups: medial, lateral, and syndesmotic.
Tendons are cord-like bands that attach muscles to bones. The posterior tibial tendon, two peroneal tendons, and the Achilles tendon are all found in your ankle. The Achilles tendon is your body's biggest tendon. It is prone to injury in physically active people.
What Is The Severity Of The Ankle Sprain?
Before panicking, you should establish the ankle sprain's degree. Depending on how serious it is, you may or may not need to see a doctor. Ankle sprains are often classified into one of three categories based on the degree of force and damage.
Let's take a deeper look at the three ankle sprain grades:
A Grade 1 sprain, commonly known as a mild ankle sprain, is characterized by modest ligament straining and tearing, resulting in minor edema and pain.
A Grade 2 sprain, also known as a moderate ankle sprain, is characterized by a partial rupture of the ligaments, resulting in discomfort when moving the ankle.
A Grade 3 sprain, often known as a severe ankle sprain, is characterized by a total tear of the ligaments, resulting in considerable discomfort and edema.
Some of the most prevalent risk factors are poor sports fitness, muscle, and ligament fatigue, inability to warm up before or cool down after exercise, carrying excess weight, improper footwear, and a history of ankle sprains or foot injuries for an ankle sprain.
Home Treatment for a Minor Ankle Sprain
Medical treatments for a small or low-level ankle sprain can typically be completed at home. Even with a severe ankle injury, starting therapy as soon as possible is advisable, at least until a doctor can examine it. Don't fear; treating ankle sprains at home is simple and painless.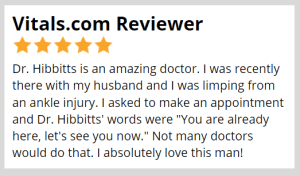 The R.I.C.E. approach is the finest at-home treatment for an ankle sprain.
Rest – while coping with an ankle injury, time is your best friend. Restrict movement and focus on rest for the first two days after an injury.
Ice is your other best friend when coping with an ankle injury. Ice the injured region for 15-20 minutes every three or four hours for the first two days.
Wrap the injured region with an ACE bandage or any other elastic medical bandage to avoid ankle swelling. Make it snug but not too so.
Elevation entails raising the affected ankle above the heart while resting (for example, using pillows on the sofa or bed). This helps to reduce swelling, discomfort and throbbing.
Unwanted repercussions can come from improperly managing an ankle sprain or returning to rigorous exercise too soon after injury, including persistent ankle discomfort, chronic instability of the ankle joints, and ankle joint arthritis. Consult a doctor to avoid the worst-case situation.
When To Go To The Doctor For Ankle Injury
In general, any 'Grade 3' or severe sprain would necessitate prompt medical treatment from a doctor to prevent additional ankle injury. A 'Grade 2' or moderate sprain can likely be treated at home, but you should see a doctor if it doesn't start to heal after a few days.
As for a 'Grade 1' or minor ankle sprain, most ankle sprains heal with the R.I.C.E. method. For those that wish to see a doctor, it's best to start with your family physician – though they might refer you to an orthopedic physician or a podiatrist if they need further evaluation.
When diagnosing sprained ankles, your doctor will examine the affected area, checking for tenderness and measuring the range of motion. If they need to take a deeper look at the ankle, they might order an X-ray, an MRI, a CT scan, or an ultrasound – all of which are non-invasive.
The Long-Term Trouble with Ankle Injury
Do you know the biggest risk factor for getting an ankle sprain? It's whether you've already had an ankle sprain in the past.
As we said, relatively mild ankle sprains can often be treated successfully at home. This can be achieved through RICE and, when appropriate, rehabbing your ankle through physical therapy.
However, the proper steps must be taken in the proper order. You don't want to go too hard too soon and risk re-aggravating your injury. Nor do you want to leave your rehab incomplete, resulting in an ankle that isn't as strong or flexible as it was before the sprain.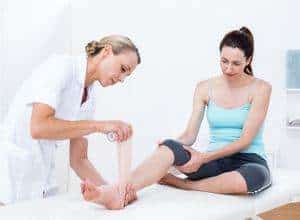 If your ankle cannot fully heal and recover, there is a greatly increased risk that the sprain will recur. And the more sprains you sustain, the greater the likelihood that the joint will become chronically unstable and wobbly even after rehab. Eventually, your ankle may require a surgical repair to fix the damage.
Treating Ankle Sprain
Seek Expert Care for Your Ankle Sprain
We know how important your activities are to your overall happiness and well-being. The last thing we wish to see is a relatively minor, one-time injury be your first step toward permanently reduced mobility and stability.
Once we determine a person has an ankle sprain via an overview of their symptoms and an X-ray to ensure they do not have a fracture in the ankle, we often divide first-line treatment into 3 categories:
Protect and rest the ankle with a brace, boot, and sometimes a splint
Start working on a range of motion, strength, and stability exercises
Start exercises that slowly get people back to intense physical activity
A mild to moderate ankle sprain often heals in two to four weeks, based on the person and what ligaments are affected. Serious ankle sprains normally take up to six to 12 weeks to heal.
People with severe ankle injuries should initially elevate and ice their ankles and use crutches to get around. Then, they must begin physical therapy, where they would perform exercises to strengthen their muscles and tendons in and around the foot and ankle. These exercises would help people avoid similar injuries in the future.
We often consider minimally invasive surgery when sprained ankles haven't healed after 7 to 12 weeks or once people experience frequent recurrences of ankle sprains.
How Surgeries Work
Minimally invasive surgery for chronic ankle pain has the following:
Making a small incision
Entering the joint
Identifying and removing any pre-arthritic or inflammatory tissue that does not belong in the joint with a tiny shaver instrument and camera and repairing the damaged ligaments or tendons
During this time, we can also perform a lateral ankle repair if a patient's ligaments are damaged. Surgery allows people with chronic ankle pain to get back to pain-free physical activity much faster than rest and strength training.
Following surgery, patients typically have to stay off the operated ankle for two to three weeks before undergoing resistance and strength exercises to strengthen the muscles and tissues around the foot and ankle.
Conditions Sometimes Mistaken for Sprained Ankles
We sometimes see patients who visit us with different conditions that have symptoms similar to chronic ankle pain. Some of the most common include: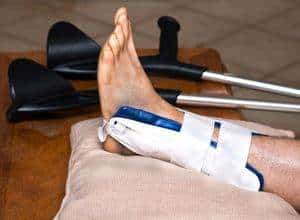 Osteochondral defects: These are areas of damage to the surface of bones in the ankle that cause pain, especially if there are loose pieces of cartilage from the injury that are now in the joint.
Tendon injuries: A tendon tear or rupture sometimes is mistaken for a chronic ankle sprain.
Fractures: We sometimes see patients referred to us who did not have X-rays, so they visit us thinking they have a sprain until an X-ray shows a fracture.
Patients should make sure they see a doctor to receive an accurate pain diagnosis and the best treatment possible.
How to Avoid Sprained Ankles
Remember to properly tape your ankles or wear ankle braces during activities, as your physiotherapist advises. Also,
Maintain good ankle muscle strength and flexibility.
Ensure proper warm-up before your exercise and include movements specific to your sport.
Wear supportive, sport-appropriate footwear.
Make sure to properly tape your ankles or wear ankle braces during activities, as your physiotherapist advises.
Be careful when exercising on wet and uneven surfaces.
Avoid wearing heels with narrow bases or shoes that will throw you off balance.
Be aware of your body's warning signs. Slow down or stop when you feel tired or in pain.
To avoid ankle sprains, people should ensure their shoes are tied nicely and snug to provide optimal ankle support and be aware of the type of activities they engage in. For example, when running trails or in a park, they must know the course, so they do not turn into surprises, such as a ditch or hole.
Ankle sprains can cause a lot of pain, especially when they occur frequently. Make sure to visit a doctor to treat chronic ankle pain and avoid further damage.